3D CAD Software is a Computer Software that assist design tool used by designers, design workers, engineers, and architects to design 3D models, shapes, structures, blueprints, and remodeling plans. It helps to generate functional, virtual prototypes of three-dimensional drawing. Using this software, designers can dynamically check errors in the design, identify prospective issues, and make adaptation.
This software graceful and automates product engineering processes such as simulation testing, sketching and drafting, manufacturing, and data management. 3D CAD software not only aids in the conceptualization of ideas but also in the photorealistic rendering and presentation of models, permit designers to understand how the design will be assembled.
Benefits of 3D CAD Modeling in Mechanical Design
The benefits of using 3D CAD program vary per business requirements, but the following ones are worth noting:
Enhance Design Quality
Improves Productivity of the Designer
Easy & Quick Documentation
Complaint with International Standards
Save Time, Energy & Cost
Better Visualization
Automate Redrawing
Save Data & Drawings for Future use
Faster Manufacturing
Enhance Design Communication & Intent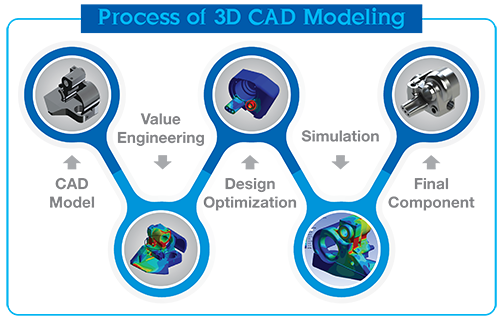 The Cost of 3D CAD Software
Most products in the market are priced on a "per month" basis and can be divided into three pricing tiers based on their starting price.
Price ranges:*
$3 – $16
Typical features of 3D CAD Software
Here are some of the most common features of 3D CAD software:
3D modeling
Annotations
2D drawing
Collaboration tools
Animation
Data import/export
Drag and drop
Version control
Component library
Compliance management
Considerations when purchasing 3D CAD software
Business requirements
Integration with existing tools
Management cost
Relevant 3D CAD Software Trends
Artificial intelligence and generative design in CAD:
Model-based definition
Here is the Complete List of Best 3D Cad Software free for Beginners
TinkerCAD
FreeCAD
BlocksCAD
Creo
Fusion 360°
Solidworks
AutoCAD
Catia
OpenSCAD
Rhino
Final Words
I hope the above CAD software tools help you create beautiful designs with accuracy and ease so you can get them approved faster. It can help you quickly move the designs to the production phase and shorten the product life cycle to accelerate product delivery with quality.